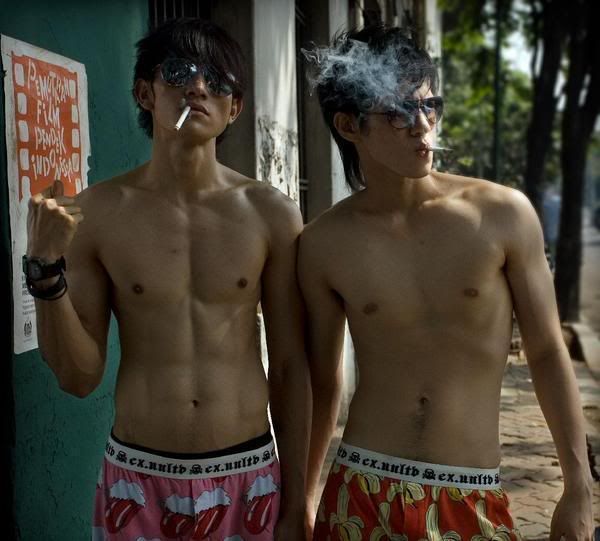 Full name: Vino Giovanni Bastian

Nick: Vino

Place & Date of Birth: Jakarta, 24 March 1982

Height/Weight: 179cm/65kg

Education: The Bachelor in Technical Chemistry of Institut Teknologi Industri Jakarta

Hobbies: Watching movie, listening to the music, playing instruments

Occupation: Actor, drummer of Lesley 28 Band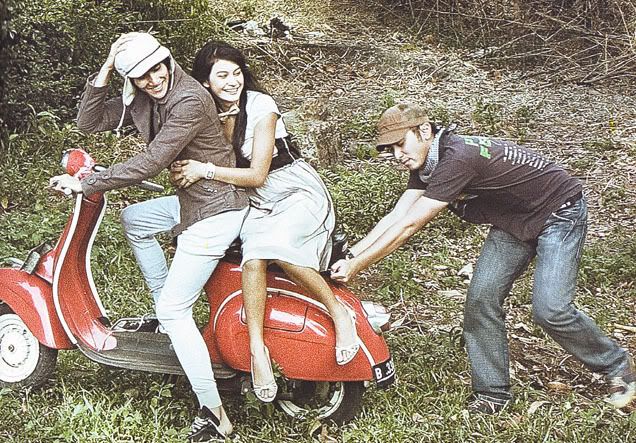 30 Hari Mencari Cinta
(2004) > Most Favorite Actress & Most Favorite Romantic Moment in MTV Indonesia Movie Awards 2004, Best Original Soundtrack in AMI (Indonesian Music Awards) 2004
Catatan Akhir Sekolah
(2005) > Best Movie in Indonesian Film Festival 2005
Foto Kotak dan Jendela
(2006)
Realita, Cinta dan Rock'n Roll
(2006) > 6 nominees in MTV Indonesia Movie Awards (Most Favorite Actor, Most Favorite Supporting Actor, Most Favorite Heart Melting Moment, Most Favorite Movie, Best Director, and Best Movie of the Year)
Pesan Dari Surga
(2006)
The Matchmaker

(2006) > Special Entry for Pusan International Film Festival 2006 Korea
Badai Pasti Berlalu
(2007) > Nominee for Best Movie in Indonesian Film Festival 2007, Nominee for Most Favorite Movie and Winner for Most Favorite Supporting Actor in MTV Indonesia Movie Awards 2007
Tentang Cinta
(2007)
Radit & Jani
(2008)
In The Name of Love
(2008)
Awards:
-Most Favorite Romantic Moment in MTV Indonesia Movie Awards 2004 in '30 Hari Mencari Cinta'
-MTV Indonesia Movie Awards 2004 Nominee for Most favorite Supporting Actor in '30 Hari Mencari Cinta'
-Best Actor in MTV Indonesia Movie Awards 2005 in 'Catatan Akhir Sekolah'
-MTV Indonesia Movie Awards 2006 Nominee for Most Favorite Actor in 'Realita Cinta & Rock N Roll'
-Indonesian Movie Awards 2008 Nominee for Best Leading Actor in 'Radit & Jani'
-Best Couple in Indonesian Movie Awards 2008 (Radit & Jani)
-Most Favorite Leading Actor in Indonesian Movie Awards 2008 (Radit & Jani)
-Most Favorite Couple in Indonesian Movie Awards 2008 (Radit & Jani)

Advertisements
:

Nokia
Suzuki Motor
A-Mild Live
Video Appearance
Kerispatih - Tapi Bukan Aku (2007)
Astrid - Merpati Putih (2007)
Rossa - Wanita Yang Kaupilih (2003)
About Vino G. Bastian

Vino Bastian is the youngest son of Bastian Tito, a famous writer of serial novel Wiro Sableng. He's become a drummer since junior high school. In 2004 he became a model for several brands and music videos. Vino started his debut as an actor in '30 Hari Mencari Cinta'. Playing as a gay in this romantic comedy movie, Vino stole audience's heart with his funny voice and gestures.


Vino never picks same character for each movie. His capacity in pulling out strong character for each roll he played has been renown since the second film 'Catatan Akhir Sekolah' and for this reason he became the favorite for some directors to work with. Thanks to 'Catatan Akhir Sekolah', Vino grabbed Best Actor in MTV Indonesia Movie Awards 2005.

One thing that makes him special is, even he's become one of best young actors in Indonesia and the favorite of directors, Vino always says that he still needs a lot more to learn about acting skill. Working together with senior actors in 'Badai Pasti Berlalu' and in his newest film 'In The Name of Love', were part of his lesson of act.


Apart from his humble attitude and thirsty of learning, most people agree that Vino is the future big actor Indonesia could produced. And that's why he was voted as one of Film Icons in Indonesia this year.

Interviews & Articles:

6 Film Icon in Indonesia (poll result from Hai magazine 2008)
4th Place: Vino G. Bastian
Vino G. Bastian: Music, But Movie Comes First
Actually, Vino wanted to get succeed in music at first, because he's been in a band since high school. But fate brought him to silver screen.
Playing as stubborn band kid in the film Realita Cinta dan Rock n Roll boosted his name. After this movie, loads of directors asked him to be the leading actor for their movies.
How does he perceive his path in film industry?

"Honestly I'm not satisfied yet. Because I wasn't an actor in the first place. That's why I need to learn a lot more. I also want to play more various characters I haven't played before. Judging from previous experiences, I think I have to learn character deeper."
***
Dewi Magazine March 2008 Ed. (Brief interview)
The Loving Reality of Upi and Vino
30 Hari Mencari Cinta (30 Days Searching for Love) is Upi's debut as a film director where she met with Vino Bastian for the first time. Since then Upi and Vino became a close partner and has hatched some more next movies, including the previous Radit & Jani.

Must Upi's movies always put Vino as the actor?
I go through casting tests too and if the character suits me, I'll take it. There's one Upi's movie that hasn't been released yet since 2 years ago titled "Ahmad". The cast was actually meant for another actor, but they didn't meet the schedule. So then it fell on me.

It's likely both of you are destined to each other…
It's my fortune…Because at the same time I was shooting In The Name of Love directed by Rudi Sudjarwo. Turned out we could well-manage those 2 schedules.

Is a better situation in Indonesian film industry also supportive of your productivity?
Talking about the quality of Indonesian movies, it could even have been far better than now if we put the curbs away. If there's more freedom (in film industry), the creativeness will be more developed.

Are you regarding this to the Lembaga Sensor Film (Film Censor Board)?
As an actor I'm very disappointed when they cut my scenes. It's not easy to produce the best mood when we're in action. Not to mention the risk of delivering wrong messages to the viewers because of the censorship.

But the rules and the signs are clear enough, aren't they? So the film-workers must have known already what kind of scenes that would be cut?
The law has stated several prohibit scenes or dialogs, but in reality all becomes grey. For instance, in a comedy they let the sex scenes go. But when it comes to drama, they prohibit it.

Do you still watch movies in cinema? What's in your mind when you watch them?
I watch all Indonesian movies because basically I like watching movies. I enjoy movies just as a movie-goer does. I like dynamic movie such as Y tu Mama Tambien. The last movie I watched was Kite Runner which Upi said the novel was better than the film.

Do you have interesting experience?
In Realita Cinta & Rock 'n Roll, I sensed that I had seen the similar action before, and turned out it's in 24 Hours Party People that I'd just watched. But when I told Upi about this, she said she never watched that movie before. I think movie is just like cookery. Same ingredient but different production will make different taste too.

Do criticisms for your works important?
I put criticism as an opinion towards what I've done. I take notice on the bad criticism because it's an input to make me better.

What's the measure of your success?
As an actor, I work for the director. So I will feel success if the director feels satisfy with my acting. To be better for the next films is my responsibility.

How do you see yourself five years ahead?
Making album for my band. I left the band behind because I'm very serious in films. But there'll be a time to play the band seriously, even make an album. I'm working on it now. And maybe I've become a married man at the time.
***
Vino G. Bastian Hiding a Girlfriend
Showbiz News Thu, 17 Jan 2008 10:49:00 WIB
Behind the eminence of the national film industry, came up several talented actor names in our world. One of them is a handsome actor Vino Bastian. Having starred in 5 films already, no one can deny his acting skill.

Some said his decision to play only in wide screen projects instead of soap opera/sinetron made his popularity seemly sinking behind other soap opera actors.

"The measure of success actually is not about being popular in public or getting awards, but it's when we can make people enjoy watching us and they can accept the message we deliver. That's one success for me," said Vino G. Bastian.

Besides his choice to keep working only for the wide screen, Vino G. Bastian also has unique life. Where as other celebrities like to share their love life, Vino rather keeps it himself.

"I've already had a girlfriend and it's been a long time relationship. Not that I mean to hide my girlfriend, but some people when they want to get my interview in film promotions, they tend to be more curious on my private life," he explained.
***

Behind The Scene Tentang Cinta 2007
Pembaruan 2006
Vino G Bastian a Sternly "Playboy"

I thought it's just my normal behavior, but since I can't get mingle easily with people, the impression is conceited and ignorance (Vino G Bastian)
Vino G Bastian never expected he would become an actor. He even wanted to be a scientist. But fate spoke another way. The bachelor in technical chemistry turned to acting world.
His appearance and skill pull out his name as one of profitable actors. Even people mention him as one of Indonesia's Big Five like his idol Roy Marten in his era. But successful didn't turn him to bragger. He still thinks that he needs to learn more.
"I don't think I'm a star yet. I never expected to be like this now. It all just came and happened. I just live my life as it is, "said Bastian in the middle of the remake film 'Badai Pasti Berlalu'.
He's been introduced to the world of art because his family loves music. He became a drummer since junior high school and until now he's a drummer for underground band called Lesley 28.
But destiny brought him to a modeling and then to the film world. So far he's starred in 6 movies, from '30 Hari Mencari Cinta', 'Catatan Akhir Sekolah', 'Realita Cinta & Rock n Roll', 'The Matchmaker' 'Foto, Kotak dan Jendela' and 'Badai Pasti Berlalu'.
Only because most of the characters he played were playboys, the image strongly sticks to him self. Yet Bastian said he's not that type.
"It's so not me. Even my friends said I'm fierce. A stern can never be a playboy," he laughed.
About that stern attitude, he said it's not by his purpose.
"I thought it's just my normal behavior, but since I can not get mingle easily with people, the impression is conceited and ignorance. But actually I'm friendly," said the winner of MTV Indonesia Movie Awards 2004 for Best Romantic Moment category.
The friendliness also makes Bastian feels like home in film world.
"There's always something new that I get from films, especially different characters. The treatment is always fresh and never bores me. I keep learning and learning".
His belated father, a famous writer Bastion Tito, was against his profession. Tito got rid of his son from the house because Vino played with the band all the time. But the youngest of 4 sons understood his father's good intention. That's why although he was busy with music and films, Bastian kept seriously studying and became the bachelor in technical chemistry.
When asked about his future, where he's heading to? Bastian admitted it's a tough choice.
"I still walk on it altogether. Apart from acting, I work like normal people with my brother because he has a business in chemical".
***
Cita Cinta, April 2006
Vino Bastian Believes in Soulmate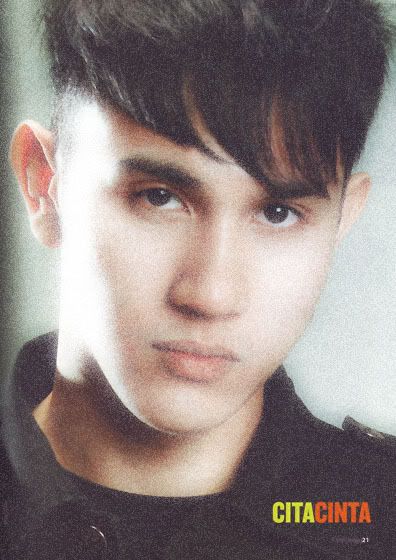 His acting as a high school student in the film 'Catatan Akhir Sekolah' (The Last Diary of High School) brought him straight to Best Actor in MTV Indonesia Movie Awards 2005. Frankly speaking, it was initially a playful start as model and actor for Vino. And the cool thing is, despite his huge popularity now, Vino never changes. It includes the way he searches for a perfect girlfriend. He admits he still needs a long time to get close with a girl.

What do you think of your acting?
Just so-so. I still feel like playing myself. In some parts the way I talk still sounds so Vino.

What is the real Vino, actually?
Moody, sometimes I could be very quiet, but if I meet with a funky person I can be chatty.

How do you face a girl?

If she's just to be a friend, I'm okay. But if I like that girl, it'll be hard for me to get close to her. It takes me a very long time to like a girl. Some say I'm a playboy because the way I get close with girls is so slow and that makes the girls think I make them waiting without clear status. It's my fault. I should have made quick decision.

What's your attitude that is most difficult to be understood by the girls?
My moodiness. Sometimes when I was with her I could be so silent even though I didn't have any problems. Normally she would ask me "what happens with you..?"

What kind of girl who can bear with you?
No one can bear with me, hehehe…I'm trying to improve my attitude, besides my moodiness could affect my job too.

Do you believe in soulmate?
Yes I do, although I haven't found my soulmate yet. But I believe someday I'll find one. I believe God creates human as couples. Someday we'll meet them no matter what age we are. Who knows it could be someone who always quarrels with us.

Your weakness when you fall in love?
I can't stand to see her crying. It makes me feel guilty.

Ever have a plan for a young marriage?
I happened to think that having a child at my age would be fun. But come to think of it, how will I feed the child? I don't want to get marry soon and then separate soon either.
***
Free Music