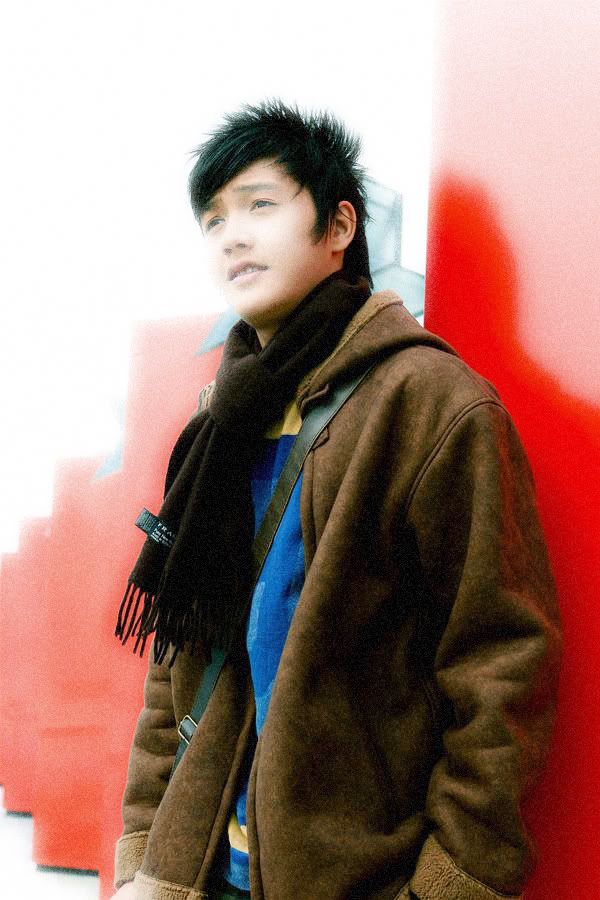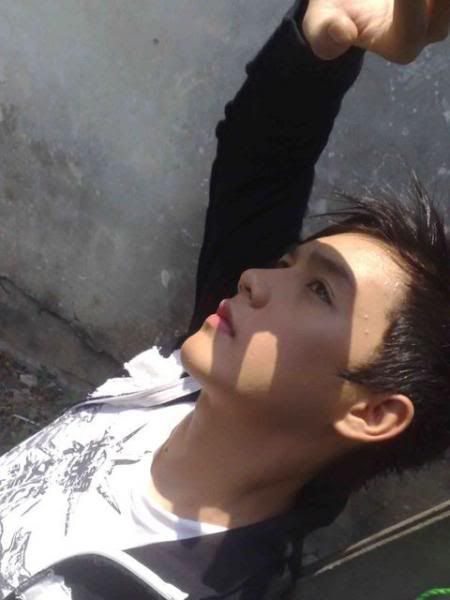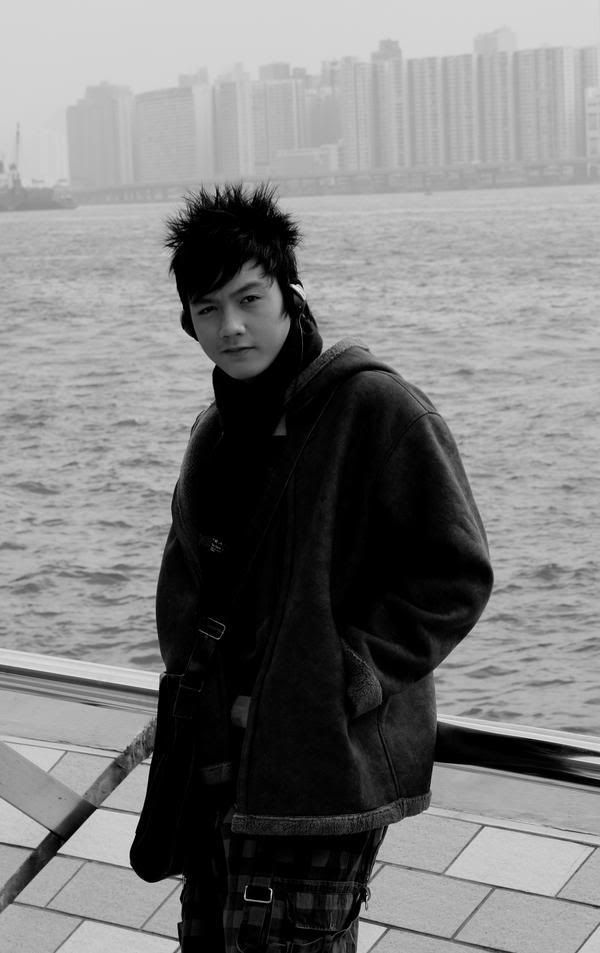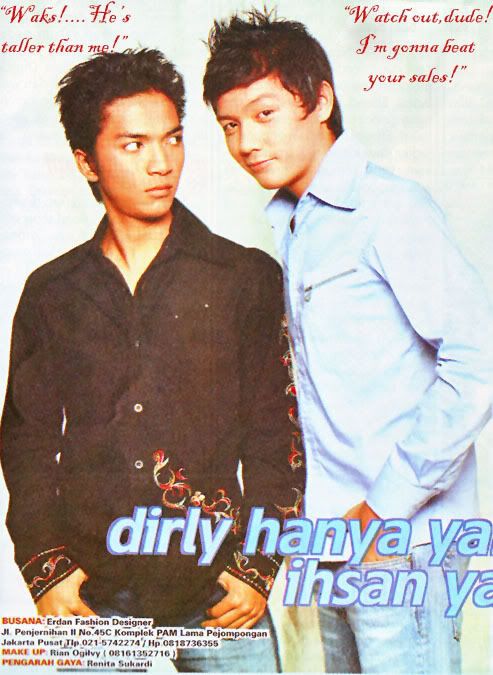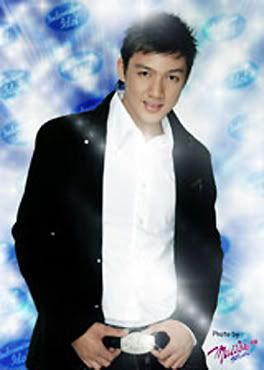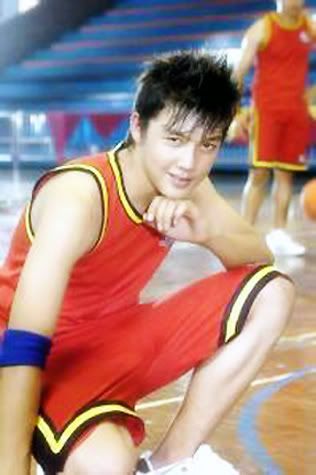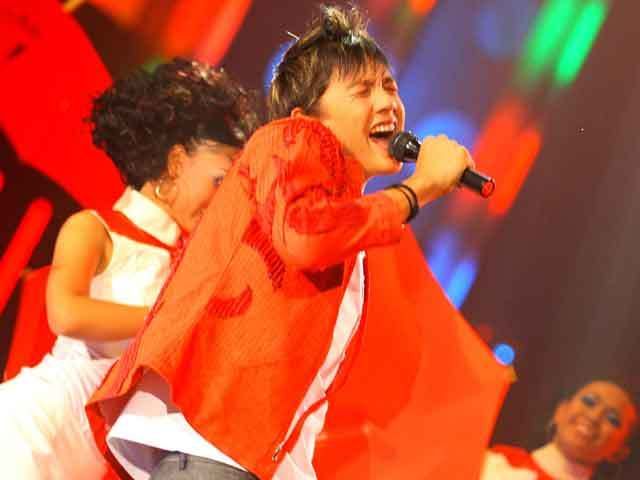 Full Name: Dearly Dave Sompie

Nick: Dirly
Place & DOB: Tomohon, December 10, 1989
Height/Weight: 171cm / 65 kg
Hobby: Sport, singing, playing guitar
Education: Highschool graduate
Occupation: Singer, actor
Website: www.takeforum.com/dirlycious
Achievement: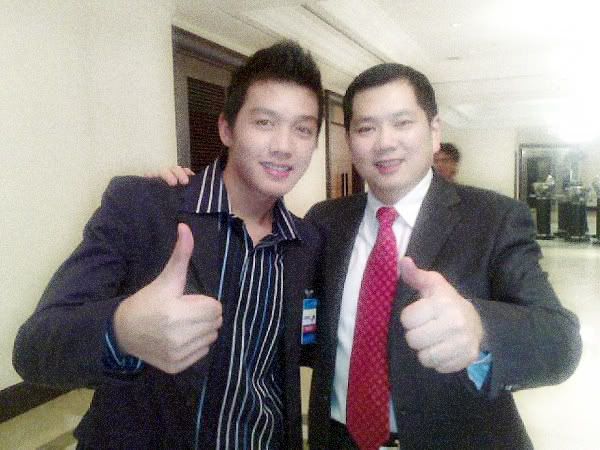 - Winner of Bintang Vokalia Singing Competition North Sulawesi (2000)

- Runner-up Indonesian Idol season 3 (2006)
- Most Potential Star 2006 by Bintang Indonesia Magazine

- Runner-up Mr. Young Celebrity 2007 by Indonesian Pageants
- Top 10 Coolest TV Actor 2007 by Teen Magazine
TV Appearances: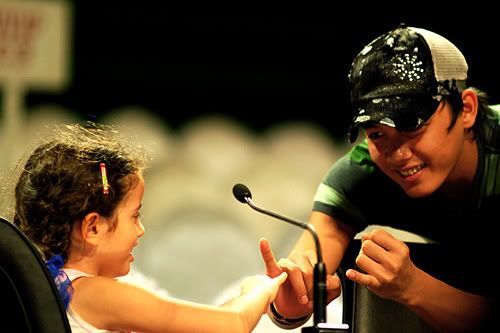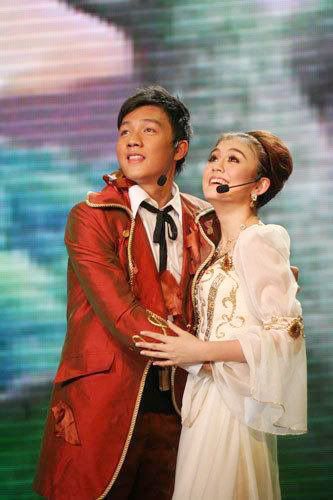 - Mak Comblang (2007) as guest star
- OB (2007) as guest star
- TV series Idola (2007)
- TV series Olivia (2007)
- Leading actor for Musical Drama 'Negeri Seribu Cinta' on RCTI (2007)
- Leading actor for RCTI Christmas Musical Drama (2007)
- TV Series Jelita (2008)
- Movie: The Shaman (2008)

Discography:

- Yovie Widianto Compilation Album (Single 'Kemenangan Hati') 2006
- Single 'Tak Ingin Dilupakan' for Indonesian Idol 4 back song 2007
- Menggapai Mimpi (2008) > NEW!

Advertisements:
Mobile-8
Jesslyn Cakes
Malibu Studio
Pop Ice
Yamaha

About Dirly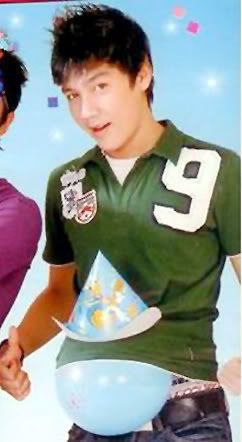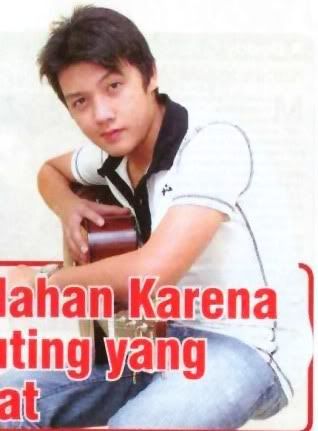 Despite the pros and cons that always occur in every season of Indonesian Idol, there's no doubt this instant star search show is still popular until season 5 this year. Many alumnus disappeared after the show over, and only several of them still exist until now. The idol show has hatched several real stars, not because they are the winners but because they keep stealing many hearts after leaving the show. One of them is Dearly Dave Sompie.
Dearly Dave Sompie, popular with Dirly, is the runner-up of Indonesian Idol 3 (2006). Touted as 'Manado Baby', as he's originally comes from North Sulawesi, the 16 year-old was the youngest contestant in idol show at the time. Without any experiences except as the winner of singing competition in North Sulawesi when he was in 5th grade, Dirly was pushed by her old sister to join Indonesian Idol audition in Manado.
Dirly described his childhood as little spoil brat, lazy, playing all day long, and always picked fights with big kids. His father's decision to transfer him to a boarding school was right, as he changed into a good and compassion person. Thanks to his teacher and especially his sister who realized his talent, the youngest and the only boy in family found singing as one of his compassion too. Although it wasn't initially his own favor to be in the Indonesian Idol, coming late on that day, half-hearted Dirly miraculously passed the audition.
When there's always a controversy in every season – either from the contestants or judges comments – for the 3rd season of Indonesian Idol the controversy was Dirly. Having cute look that broke lots of teens heart who call him 'Dirlycious', most people presumed he stayed in the show week after week merely because of his face. He was even compared with the runner-up of Indonesian Idol season 1 Delon, and his performances from the Workshop to early weeks of Spectacular Shows were loaded with cynical harsh comments from the judges.
However, it was also astounding that a 16 year-old kid could stay calm and didn't look nervous with all the pessimistic towards him. People began to respect the way he handled all criticizes and the never give up spirit he showed by significant progress each week. Dirly admitted to the media that at first he didn't really care with the show, and didn't be bothered if he would be voted off earlier, because it meant nothing for him. But his consciousness arose when he found many people voted for him, he was moved by their sacrifices to support him, then he felt guilty and responsibility to not disappoint his supporters.
Dirly said he had nothing to lose in this competition, and the only thing he concerned was to please the audience and sing by heart. When the press asked him how he overcame his nerves and where this lad got his strong mentality, Dirly humbly said it's a result from his experience as a naughty brat who didn't know what fearful was. And with this formula, he showed big improvements week after week. Dirly started to steal the notice in Top 7 when he sang Chrisye's 'Kisah Cintaku' with amazing vocal improvement, where the head of judge Indra Lesmana commented his performance as phenomenal. Dirly then turned to a dark horse that wasn't even counted before.
With his vocal ability, song impression, stage presence, and interesting packaging, Dirly finally landed on the Grand Final of Indonesian Idol 3. All the judges predicted he would come up as the winner, but fate walked another way. He only lost 250,000 votes from the winner. The surprising result also caused big controversy among the people and media, since most people and analysts agreed that Dirly was supposed to be the proper winner. But Dirly showed his maturity by admitting his contender deserved the title.
Let alone the winner title, the real star keeps shining in real stage namely showbiz. It was a little amusing and first time happened in idol history that Dirly and third winner Gea were chosen to sing the Winning Song 'Kemenangan Hati' instead of the first winner, for Yovie Widianto Compilation Album. 'Kemenangan Hati' made a big hit and spotted number 1 on MTV Indonesia chart for weeks.
Subsequent to the successful of the single, Dirly received offers in acting as guest star for several sinetrons. His acting skill attracted viewers and producers, and finally he got leading role for sinetron 'Idola' in 2007. 'Idola' spotted top rating for weeks as well as single 'Kemenangan Hati'. Dirly was also trusted as the leading actor for 2 big musical dramas in the same year. For his acting, Dirly made Top 10 Coolest TV Actor 2007 by Teen Magazine. Dirly also became the 2nd Runner-up Mr. Young Celebrity 2007 for his sparkling achievement in showbiz. His next single 'Tak Ingin Dilupakan' became the theme song/back song for Indonesian Idol season 4 that was played every week in Result Show.
Having hectic schedule in his new life, Dirly decided to take home school to finish high school in Jakarta. The schedule also affected his throat that had to undergo a little surgery. While now he seems to focus on acting, Dirly still keeps working on his first album that will be released soon.
How far can he go? Time will tell.
Articles & Interviews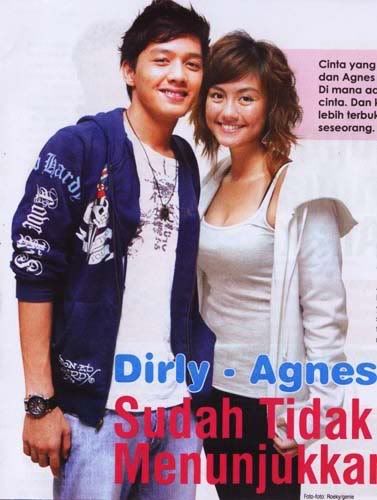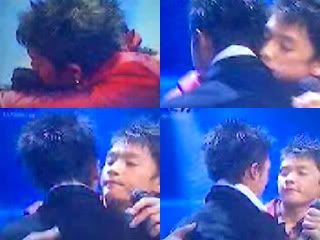 Seputar Indonesia, January 2007

Dearly Dave Sompie Still Walking Strong
The youngest contestant is prouder to fail yet can satisfy a lot of people than become substandard champion.
He must have felt disappointed. Yet, with the amazing performance he gave, Dirly was eligible to walk with his head up as a winner.
Dearly Davie Sompie, usually called as Dirly, is the youngest contestant who succeeded entering the Workshop Indonesian Idol 2006. Surprisingly, by age 16 his step was considered as a quiet long journey, walking bit by bit to become the grand finalist of The Indonesian Idol 2006.
Even though he lost in the end, Dirly admitted he was pretty proud. "I'm so happy just to be here because a lot of people said that I should have gone long before. But I kept holding on, " said Dirly.
In his opinion, the meaning of "win" is the ability to give maximum performance, which is not inadequate. So, he is prouder to fail yet able to satisfy a lot of people than become a substandard champion.
That's the reason why in the grand final he never thought of campaigns to win, just the thought of how ready he was to give the best for Indonesia.
"Obviously I was really glad having a support from the governor. But never crossed in my mind whether this was enough or not. Because I just thought about how to perform the best I could and make people happy, " said the Tomohon born, 10 December 1989.
It's been proved during the duel round against Ihsan, from the Grand Final night, The Battle Goes On, to The Result & Reunion Show, Dirly's performances were the best.
In the Grand Final, all the 4 judges gave him huge compliments because of his outstanding performances for all 3 songs. And even in the Battle Goes On, he looked more attractive and communicative. So it wasn't a wonder if most of predictions went to him.
But fate spoke differently. It was bitter to be defeated yet Dirly could show supportive of a real star, by humbly accepting the winner.
"This is a competition. There's got to be a winner and a loser. And Indonesia has chosen the best. I truly can accept it. For me, to be in the grand final was just a blessing," said the boy who framed 178 cm height and 65 kg weight.
This is not the end of everything for Dirly. If he looks at Delon, the runner up of Indonesian Idol 1, whose now has successful career more than the champion does, he doesn't have to feel down at all. He will keep standing up and walk to get his dream come true.
What's more, he promised to give the best for his first album that will be released after Ihsan's album comes out.
"I will certainly give the best after this competition. I'm going to make an album and exist in stage world, and finish my high school."
***





Republika Newspaper


Wed, 31 January 2007


Dirly Wants to Play Romantic Film



Runner Up Indonesian Idol 3, Dirly, has a desire inside, that is stepping to Indonesian film industry. "I want to play in a big screen, especially if there's an offer to play in romantic movie," he said in the middle of press conference of Yovie Widianto new album 'Kemenangan Hati', in Jakarta last week.

In this album, Dirly is coupled with Ghea to bring a single that has the same title with the album.

Dirly is actually not a newcomer anymore in acting world, since a couple of his TV dramas; 'Mak Comblang' and 'Idola', are still airing on RCTI.

In 'Idola', he became the partner of Ghea, the finalist of II3 too.

Dearly Dave Sompie said he wouldn't refuse to play movie with anyone, and he wouldn't too choosy. For him, the schedule to get shooting is more important to be concerned.

''If there's a spare time and I got an offer to play a film, I would take it instead of doing nothing,'' he said.

He also said that he admired Roy Marten and Luna Maya.

Although he wouldn't too picky in choosing the roles and the offers, Dirly wished he could play in a romantic one.

"It's not far from my original character," he laughed. And another thing, he wanted to play with a beautiful actress.
***



Bintang Indonesia, Dec 2006
Most Potential Stars 2006
If there are the hottest and the most interesting reality show's contestants to talk about, it maybe 2 unique voice teen singers Ihsan (17) and Dirly (16). These two new idols achievement to be on the Top 2 of Indonesian Idol 3 (II 3) was tagged along by people reactions.

Some of them said both went through the grand final just because of luck factor and sympathy. The fact that both weren't the best contestants according to judges has also enlarged the attention of public and media. Even the hectic still could be felt 3 weeks after the competition, everywhere.

This has proved that the appealing of the boys is so strong. That's why Bintang Indonesia crowns these boys as the Most Potential Stars 2006.

Even though they've become stars through instant process, it doesn't mean we can look down at them. In terms of quality, stage action and performance, Dirly improved very well. Quality-wise, they're not a singer with shocking voice, but we must admit they have unique voice and strong determination to learn.

Dirly with his progressiveness has surprised everyone. He dared to take the risk and always gave a surprise in each of his performances.

If we look back at the previous seasons, all young contestants like them always went messy when under pressures. But Dirly, who nearly was predicted to go home every week, and should have rest due to his soar-throat, never cared about it and kept going on.

Dirly admitted it happened crossed to his mind at once to give up but when he saw lots of people supported him, he knew he should try to stay. And now he gets the pay off such as numerous off air and on air performances, as the opening act artist for Westlife, Yovie Widianto concert and many more up till now.
***



Bintang Indonesia, 28 August 2006

Does Dirly feel shocking not having the title?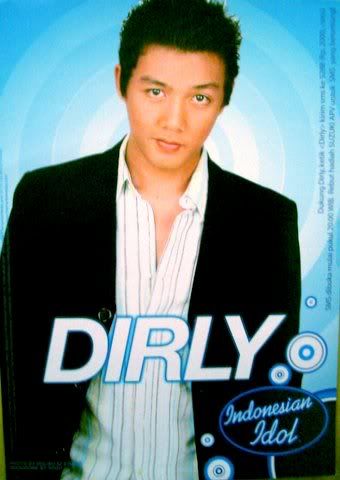 Dirly's lost was regretted by so many people. But Dirly said "I'm okay". His daily activities, on air and off air are really tight just now. He admitted the result was still patterned in his heart. "There are a lot of SMS texting me that I was deserved to win. When I walked in the malls people shook my hand and said they supported me".

This huge attention healed his disappointment but it sometimes made him felt uncomfortable. "I'm sincere, the winner title is for Ihsan," said the 'Manado Baby' humbly. He confirmed his relationship with Ihsan was just fine. "In fact, I often teased him. I asked him: how does it feel to be Indonesian idol? Hahaha.."

This friendship isn't just a fake. Even before the result show, they've planned to sell the winner's car and shared the cash halves or 50-50. Ihsan said during the Top 2 he felt quiet stressful but Dirly always cheered him up and made him laugh, while Dirly said Ihsan was a nice company to discuss about girlfriends. Both of them said they would rather be the best seller singer than to become Indonesian Idol winner.

As for the Rp 100 millions (U$ 10 millions) cash prize he got, Dirly wanted to spend it for his life in Jakarta. He lives in an apartment together with Ihsan for a while and he planned to live with his sister together in the future.
***


Bintang Indonesia, 15 August 2006

Indonesian Idol 3: Dirly–Ihsan, The Battle of Ex-Bad And Good Boy
The funny thing is, since the Top 4 they've been dreaming. "We had an idea if we both could make it to the top 2, we would sell the car prize and share the money," laughed Dirly.

The full surprises of Indonesian Idol (II) 3, last Saturday went into the most intense episode. Two contestants, Dirly (16) and Ihsan (17) rallied to grab the title in Senayan Stadium, with more than 8,000 people came watching the show directly. Dirly flew the people with his sweet voice in winner song 'Kemenangan Hati' (slow version), 'Hampa' (Ari Lasso), and 'Akhir Rasa Ini' (Samsons).

According to Jasmine Simon of Fremantle Media, this was the first time in idol history, two 16 years old teenagers' head to head in the grand final. Judika, the runner up of II2 also said this is the battle of 2 singers who have equal huge fans from both side.

During the off air shows, Dirly was quiet busy thinking about the songs he would performed for the 'Battle Goes On' show. He felt happy though, because now he's staying in an exclusive hotel with the best service, as the reward for the Top 2 contestants.

Waiting for the result show must be really a heart bud. The popularity of the boys aroused quickly. At first Dirly the Manado Baby, was mentioned as the winner in performance, song ornamentation and feeling. Meanwhile, Ihsan the Good Boy attached audiences with his cheerfulness and the story of his family.



Dearly Dave Sompie: Determines to Loose Up


The presence of Dearly Dave Sompie (16) or familiar with Dirly in Indonesian Idol 3 made a controversy. Many people didn't get his clumsy performance and unstable voice at the beginning of competition. Judges felt unsure with their own choice, and Dimas Jay at the first week of workshop said his performance was the most amateur among the rest. Every weekend the judges predicted that this boy was going to home. Among the idol lovers, there was a debate. They said his premature voice was the worst in Indonesian Idol history.

"The earliest weeks made me want to go home," Dirly recalled. Constant bombardier of criticisms are obviously very hard for a kid in his age to accept, who only had one competition experience in his whole life back when he was in the 5th grade. This situation was getting worst when he said he was better than Delon in a TV promo.

"They marked me as arrogant, and since then after the concerts I could never sleeping. Anything I sang always went wrong," he said. It affected not only psychologically but also physically. "I was really depressed and acne popped up on my face."

Having through the Spectacular Show didn't make his step go easier. His vocal improvement still couldn't impress judges and viewers, and was covered by other senior contestants' great voices, such as Nobo, Sisi, and Ilham. He began to steal the attention in the Top 7, singing 'Kisah Cintaku' (Chrisye) flowingly and vividly. Still, the public doubted his potential capacity.

"From the beginning he always got criticism yet it made him felt there's nothing to lose. It made him more relax," explained the vocal coach Uci Nurul. Dirly felt the compliment from the judge that week was not something big. "The condition is, I wasn't the best of all. I just determined to loose up. It was almost half way after all," said Dirly.

The pain in his throat that the doctor said was getting worst, and had got to be taking care was unfelt. "I just fought it all. I drank super big pills and it wasn't a big deal", said the brown eyes boy. He was also diligent to ask about everything to the instructors. "I don't want to feel satisfy easily. Even if people say I'm good but Ma'am Catharina (the vocal coach) still says there are still some errors, then I'm not good yet," said he.

Dirly began to show his jaws after surviving the Top 6. Titi DJ praised his slowly-but-sure progress in finding his own musicality, his husky and romantic voice. At that time everybody began to realize he was recognized as a strong determination student and very fast to absorb coaches instructions. Ari Tulang's (the dance coach) description to the media: "Dirly never dies. When other contestants lost their enthusiasm, he pushed his motivation alone".

"Maybe because the practice was in the morning, so most of contestants were still lazy to move," excused Dirly humbly. "I just do the advice from Ms. Ratih (psychiatry of Indonesian Idol). Before sleeping I do push up 50 times, and when I wake up I do sit up. It makes your body fit and you feel the spirit more," he revealed the secret.

Dirly's family was one of the people who felt surprise with his improvement. "We knew at the workshop he often told us that he just wanted to go home. But all we could do was just support him. We didn't want to destroy his courage. We thought if it's time to go, and then just go. Maybe criticisms from the judges were true. But we still felt his talent hadn't come all out yet," said Diana Sompie, Dirly's big sister. The Sompies felt his spirit aroused when he got through the Spectacular show. "My family is my biggest fans. If I performed badly, they would say I was bad. They always gave me suggestions about the songs too," said Dirly.


Rejected in Audition Room


The alteration of his states of mind and never surrender attitude made the family feel optimistic. This is contrary to his spirit when he made to the Top 28 with Christy from Manado. "He almost canceled his flight to Jakarta. The airplane was about to fly midday yet he hadn't woken up at six in the morning. His spoil manner came out again," recalled Diana. Always being under protection of his big sisters, he was afraid of going distant. "I pushed him, and after I said I would give him extra cash, he woke up," laughed Diana.

Diana said the drama has begun from the audition day, before he got through the Top 28. "We came to the audition in Manado when the registration has just closed. I begged the committee to get permission. I thought Dirly was just 16 and if he had to go to Jakarta for the competition and left school, it was okay. But if he takes audition the next year, when he's already on the 3rd grade of high school, we wouldn't let him go because he must prepare for the final examinations," explained Diana.

Diana then had a meeting with one of the local judge, Renny Tamara. At first Renny agreed to accompany Dirly to the next audition city, Ambon. But when Renny told this plan to the producer, they said they didn't want to waste time so they asked Dirly to sing right away. "So I asked him to sing outside the exit door. We sensed his big talent at the time. The producer who has jumped into the car and almost run to the hotel, then told him to come back the next day," said Renny.

But the obstacle hasn't finished yet. Since he didn't officially registered, the committee rejected him when he entered the judge room the next day. Fortunately the producer explained his decision, and so Dirly became the last contestant who passed the audition round 1. He continued audition round 2 in Surabaya with other Manado contestants and passed it again. And finally he flew to Jakarta as one of the Top 28.


A Bad Boy Turns to a Good Boy
The ability of singing runs in the family. Benhard Sompie and Martha Mailangkay had a local band "Sumber Nada" in 1960's. "He likes singing everywhere, in the church, in the toilet, by the river and at the garden," said Diana. He won singing competition in 5th grade of elementary school. But it didn't continue when he turned to a bad boy. He recalled that period as the rebellious days. "I was a brat in junior high school. I took bad influence from friends. I went home 6-7pm everyday after school. I played play station games and hung around all day," said Dirly.

His bad attitude grew to the critical degree. "I often had fights. Every time someone mocking me I blew up and punched him. I have knocked people and I have got knocked as well..hahaha.." Dirly laughed. He also admitted that he started to try smoking and drinking at the time. "But one day my Principal sent a notification to my parent. He wanted to drop me out if I couldn't change my attitude. My father took a wood bar and beat me until the wood broken. It was awfully painful and I knew I made mistakes but I was scared to cry," he recalled those dark days.

Encouraged by the willing of change and the desire of his sisters to increase his singing talent, Dirly went to Pioneer boarding school after graduating the junior high. They only allow the students to go out once a week and go home once a month. In the new place he got so many positive influences. "I became more discipline and independent. I also began to attend the church regularly. Now I can wash my own clothes too," said he. Diana recollected, "We happened to ask him washing his clothes himself, but just when the washing machine started to roll, he leaved to play soccer".

During high school his soul of art reborn. "I composed several songs with my friends, and before the idol audition we planned to record a demo. There was a guy happened to work with Glenn Fredly wanted to help us," said the boy who's also good in playing guitar.

Both Dirly and Diana admitted that his disobedience attitude also has a positive side after all. "Dirly became a bold child and never surrender to difficult things like now. I hope he keep remember that his talent is a gift from God, and for that, we want him to keep humble".


Dirly & Ihsan's Daily activities: High Confidence, Cheerful, Playful
On stage, they have made people especially girls went hysterical. Many people were carried away by Dirly's mellow voice, while Ihsan charmed many of them too. As teenagers in general, Dirly and Ihsan are very dynamic and like to joke. Thanks to his phenomenon achievement, Dirly could pass the first grade in high school, but Ihsan didn't, since he couldn't join the practical examination in his school.

One day they "quarreled" about who's handsomer according to audience. "I think Dirly is my big rival because he's handsomer, his eyes are brown, and his skin is white," confessed Ihsan. "Why yes of course," Dirly replied.

"Sadly, he has acnes," Ihsan closed his compliment teasing-tone. But Dirly didn't want to lose from him. "He said that because he's jealous. I'm definitely stronger and taller than he is," replied Dirly.

On the other day they praised each other. "I admit Ihsan has more fans than me. Although the judges said I'm more progressive, sometimes I met fans who asked me to sing like Ihsan," said Dirly seriously.

At the different place Ihsan admitted Dirly's good quality. "He has unique voice," praised Ihsan. Dirly's progressive vocal raised Ihsan's spirit to improve himself.

Sometimes they're supportive at each other. It was evidently seen in the Top 3 episode. "I saw Dirly often said to himself that he's going home. But I told him not to worry. You also have a chance to the Top 2, "explained him.

The funny thing is, since the Top 4 they've been dreaming. "We had an idea if we both could make it to the top 2, we would sell the car prize and share the money," laughed Dirly.

Will this naughty dream come true? "It was the past, now we don't want to," said Dirly. Ihsan agreed. "I told him, I got the car and you got the wheel…hehehehe," laughed Ihsan.

Togetherness between the two boys has been developed during the journey to the top. "We both became closer because we like joking," Dirly explained. Ihsan said the difference between them has made them closer instead.

"I'm neat while Dirly is careless. But he's very easy to apologize when he does wrong things," said Ihsan.

Dirly described Ihsan as mature, calmer and straight forward. "From Ihsan I learn how to be patient and not getting angry easily," admitted him.

About love story, Dirly admitted he'd been having 3 girlfriends while Ihsan had been having 6 girlfriends. Sometimes they act silly like saying, "I'm so cute!" or "I'm handsome, aight?"

Don't take it as narcissism, but it's merely because they're still young and love to tease.
***



Videos & Live Performances

Dirly & Gea - Kemenangan Hati (2007)
Dirly - Kemenangan Hati (live 2006)
Dirly - Pelangi Di Matamu (live 2006)
Dirly - Hampa (live 2006)
Dirly - Akhir Rasa Ini (live 2006)
Dirly - Akhir Cerita Cinta (2006)